In recent years, Kanagawa Prefectural Gallery has been actively introducing installation works by young artists, who made full use of its unique exhibition spaces, including solo shows by Chiharu Shiota (2007) and Takehito Koganezawa (2008), and a group show, Everyday life another space (2009/2010).
This time, the gallery is going to present a solo show by Taro Izumi called Kneading. Izumi is an energetic video artist who attracts attention with his innovative artwork which has been exhibited not only in Japan but also in various countries such as the USA, Switzerland, France, Korea and Thai. This time, he is going to use all of the 5 exhibition spaces, 1,300 ㎡ in total, to develop a large scale video installation based on his concept of "kneading" video footages and the real world.
We hope you'll enjoy Taro Izumi's creative video world unfolds in the spacious exhibition hall.
Taro Izumi - Kneading
Venue: Kanagawa Prefectural Gallery
http://www.kanakengallery.com/
Period: 2010.11.2(Tue.) - 11.27(Sat)
Opening Hours: 10:00 - 18:00
Admission:
Adult=700yen
Student / 65years old or more=500yen
Under high school student = free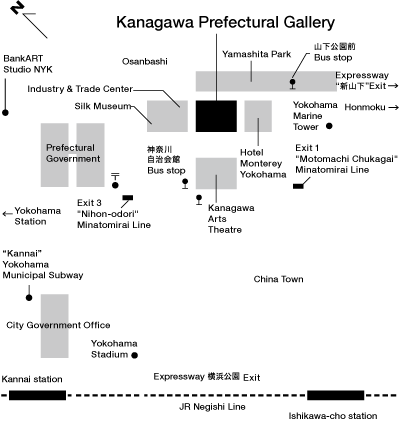 Kanagawa Prefectural Gallery
(3-1 Yamashita-cho, Naka-ku,Yokohama, Kanagawa, Japan)
[GoogleMaps]
• Minatomirai Line (Direct link from Tokyu Toyoko Line)
6 min. walk from Exit 3 of Nihon-odori Stn.,
or 12 min. walk from Exit 1 of Motomachi Chukagai Stn.
• JR Keihin Tohoku/Negishi Line
15 min. walk from Kannai Stn. and Ishikawa-cho Stn.
• Yokohama Municipal Subway
15 min. walk from Exit 1 of Kannai Stn.
• Yokohama Municipal Bus
2 min. walk from Kanagawa Jichi Kaikan Bus Stop,
a 10 min. bus ride from Bus Terminal 2 at Sakuragi-cho Stn.
or Bus Terminal 2 at East Exit of Yokohama Stn.
(excl. bus route 148 and all express services).